The beginning of August is close to every BITSian. It not only marks the beginning of the semester and ghoting for  the CDCs but an occasion which acts as strengthening factor for all BITSians , the BITSians' Day.  BITSians' Day started in 2013 and has come a long way since then becoming grand every year.
buy xanax online no prescription
BITSians' Day 2017 was celebrated on 4th August around the world. The celebration venues were announced with a unique Game of Thrones themed map to create zest among the BITSians .
valium for sale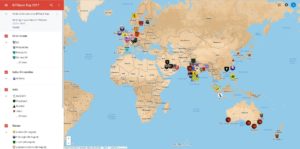 valium online no prescription
On this day, BITSians came together in more than 200 locations all over the world to connect with their fellow alumni and re-live their BITSian memories. BITSians' Day was also celebrated across the BITS campuses. Apart from the celebrations planned in specific cities, this entire weekend witnessed several impromptu meetups in offices, universities and neighborhoods, and an outpouring of the BITSian spirit.
buy valium online no prescription
xanax online without prescription
But BITSians also proved that BITS will always rule their heart, with or without a huge celebration. Whether it was a peek into the BITSians' Day celebration in the armed forces, a lone BITSian in Nairobi, a BITSian at Tesla celebrating with a drive or an inspiring message from Campbell Island, Great Nicobar, the day witnessed BITSians utilizing the power of social media to connect to their Alma mater and alumni.
tramadol for sale
On the Social Media Platforms, there has been huge increase in responses from BITSians across the globe this year. Twitter impressions increased by 200% whereas Facebook posts showed remarkable 280% increase from 2016. For increased engagement on social media, BITSAA launched "Back2BITS Weeks"- contests on social media for every week leading up to BITSians' Day lasting for around one and a half  months. The initial events were focused on sharing memories from the BITSian life like their Hangout places, food they ate at BITS and their customs and traditions which provided a Social media outburst from BITSians from all decades.
buy xanax no prescription
The later campaigns were more personalized, and focused on individual experiences and expectations. Meet Your Alumni event aimed at connecting the BITSians Alumni with the other BITSians for guidance and help, and received a spectacular 500 responses.  Most of the BITSians seeking help have already been matched to their mentors, enabling them to resolve their queries regarding their future endeavors. The BITSian Heroes event brought forth the stories about how a person from his/her BITSian life has been helpful and built a special bond. In the last week, quiz related to everyday life of BITSians was organized on social media. A prelude to BITSians' Day video was also launched and struck a chord with BITSians.
xanax online pharmacy
News platforms – The Hindu and Inshorts covered the success of BITSians' Day this year.
xanax online pharmacy
buy tramadol online no prescription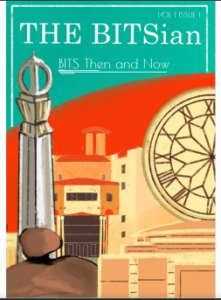 klonopin online pharmacy
This BITSians' Day, BITSAA also launched the annual magazine , 'The BITsian' with the theme 'BITS Then and Now' . The magazine features interviews from Directors of all the campuses from BITS Pilani, highlighting how BITS has grown and  changed over the years.  It encompasses stories across a gamut of its alumni and topics. from life of the first BITS batch of  1946 to more recent stories like lifting of the curfew from BITS Girls' hostel which set a precedent for the country. The magazine can be read here: https://issuu.com/bitsaa/docs/bits_then_and_now
buy ambien online without prescription
A 36-Hour group fundraising campai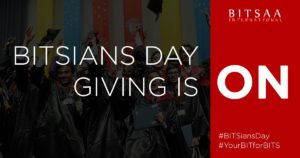 gn- The BITSians' Day giving campaign was  organized as a run up to BITSians' Day and the two biggest groups got to dedicate 10% of the ENTIRE amount raised to a BITSian cause of their choice.
And finally, as BITSians Day dawned, several BITSians put up small video clips as their Whatsapp Statuses and Facebook stories to show solidarity as a BITSian family, which further contributed to the BITSians' Day frenzy.
Needless to say, the event was a huge success. BITSians' Day concluded in a spectacular manner, and looking forward for more amazing experiences the next year.